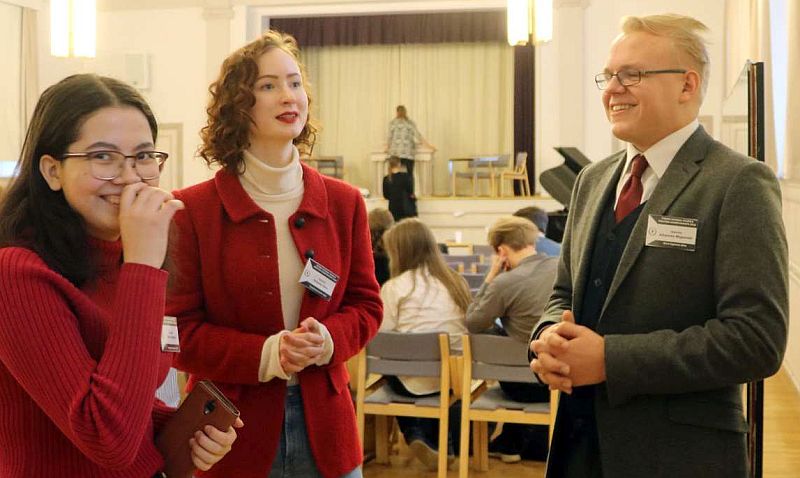 2018 Finnish National High Schools Debating Championship!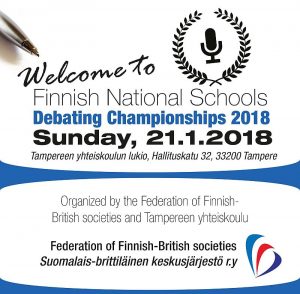 The Federation of Finnish-British Societies and Tampere Finnish-British Society, together with Tampereen yhteiskoulun lukio, hosted the Final of the 2018 National High School Debating Championships on Sunday, 21 January at 13:00 at Tampereen yhteiskoulun lukio (the former 'Tampereen Yhteislyseo').
At the final, the teams from Suomen Yhteiskoulun lukio and Etelä Tapiolan lukio, who had prevailed through the two-day preliminary rounds, competed for the title of 2018 Finnish National High School Debating Champion. The format was World Schools Debating Style, in which teams are tested on their skills in persuasive argumentation, debate strategy and style. Judges of the competition were students and alumni from Finnish university debate societies, as well as Mr. Miha Andric, an international debate teacher from Slovenia.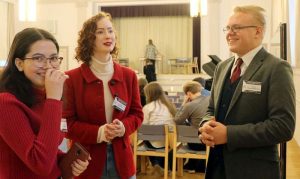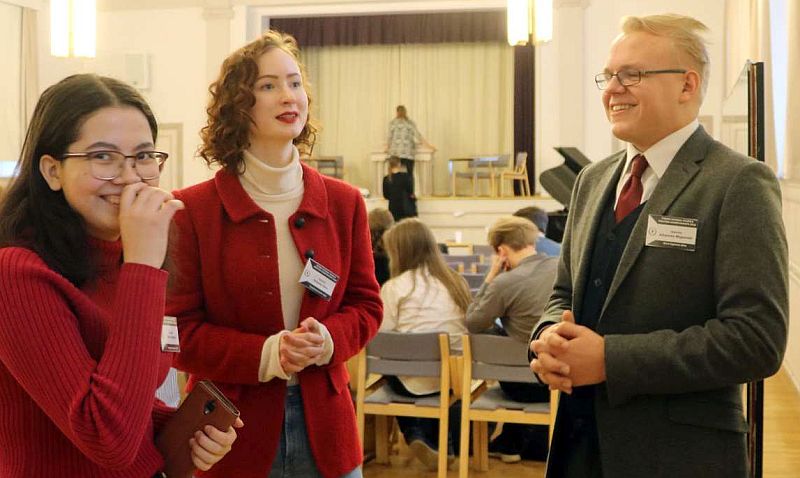 The 2018 winner was Suomen Yhteiskoulun lukio, comprised of Mesbaul Anindo, Bowen Xu and Miina Heikkinen. The Best Debater Award for the entire competition went to Etelä Tapiola's Johannes Majamäki, with the runner-ups Miina Heikkinen and Bowen Xu.
Porin lyseo's Kalle Seppälä, Tampereen yhteiskoulun lukio's Josephine Lenick, and Helsingin englantilaisen koulu's Tanyah Iivonen were awarded scholarships to attend the 2018 World School Debate Academy in Slovenia.
The Federation of Finnish-British Societies, chaired by Tampere Finn-Brits Board Member Marjut Salminen, organizes the Debating Championships each year, in cooperation with a hosting lukio. The 2017 Championships were held at Mattlidens gymnasium in Espoo. The 2017 Champion was Etelä-Tapiola, with Ressun lukio the runner-up. The Porin lyseo team was awarded a Scholarship for enthusiastic performance.
For the 2018 Championships, there were 12 teams from Tampere, Turku, and Helsinki, comprising 3 students plus 1-2 teachers per team. These 12 teams competed in preliminary rounds to determine the two finalists; the final debate on Sunday afternoon lasted about an hour. Altogether, there were six constructive speeches & two summarizing speeches from the two teams.
The finals were especially interesting for those with an interest in debating and in current events, via the debate topics. However, some also attended simply to marvel at the linguistic proficiency and intellectual sharpness of the contestants. The Finnish-British Society is proud to have been the sponsor of this competition and other debate activity in Finland.